On the 127th birth anniversary of B R Ambedkar on April 14, Prime Minister Narendra Modi inaugurated the first health centre under Ayushman Bharat Scheme at Bijapur district in Chhattisgarh.
View image on Twitter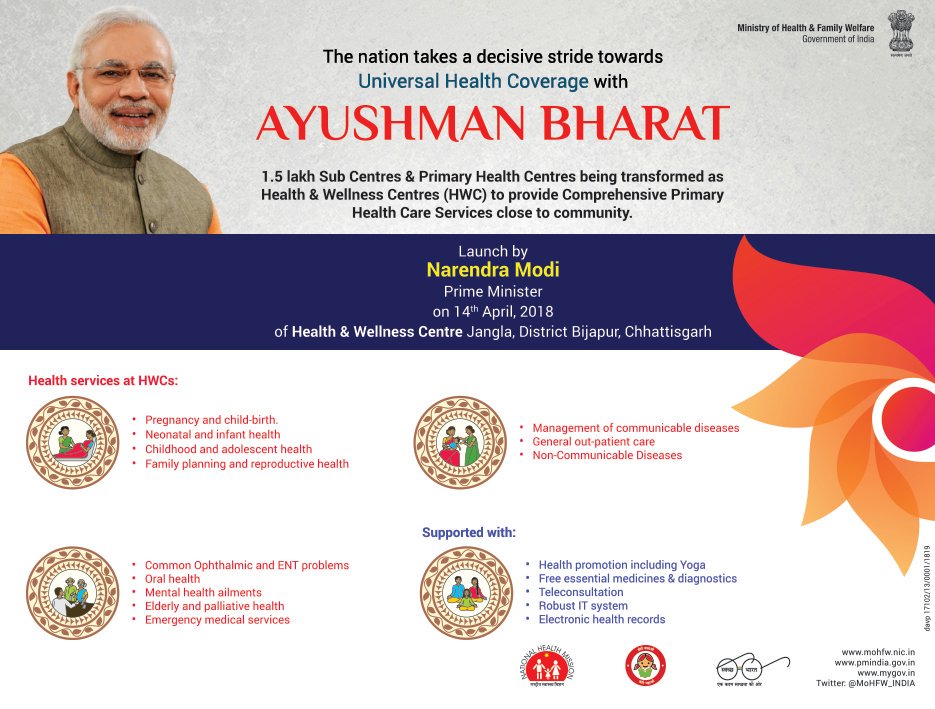 Ministry of Health✔@MoHFW_INDIA
Prime Minister will launch Health and Wellness Centers, under #AyushmanBharat today at #Bijapur #Chattisgarh.#SwasthaBharat #UniversalHealthCoverage@PMOIndia @JPNadda
8:48 AM - Apr 14, 2018260137 people are talking about this
Twitter Ads info and privacy
The tribal district of Bijapur is one of the most backward regions in the country but has started doing well on various development parameters. Modi is the first Prime Minister to visit the district.
The Ayushman Bharat scheme aims at providing medical insurance worth Rs 5 lakh per family per year for secondary and tertiary care hospitalisation to 10 crore poor and vulnerable families in the country.
Under the Ayushman Bharat Scheme, the government will open 1.5 lakh health and wellness centres by 2022, which will be equipped to provide medical treatment for diseases such as blood pressure, diabetes, cancer, and old age illnesses.
View image on Twitter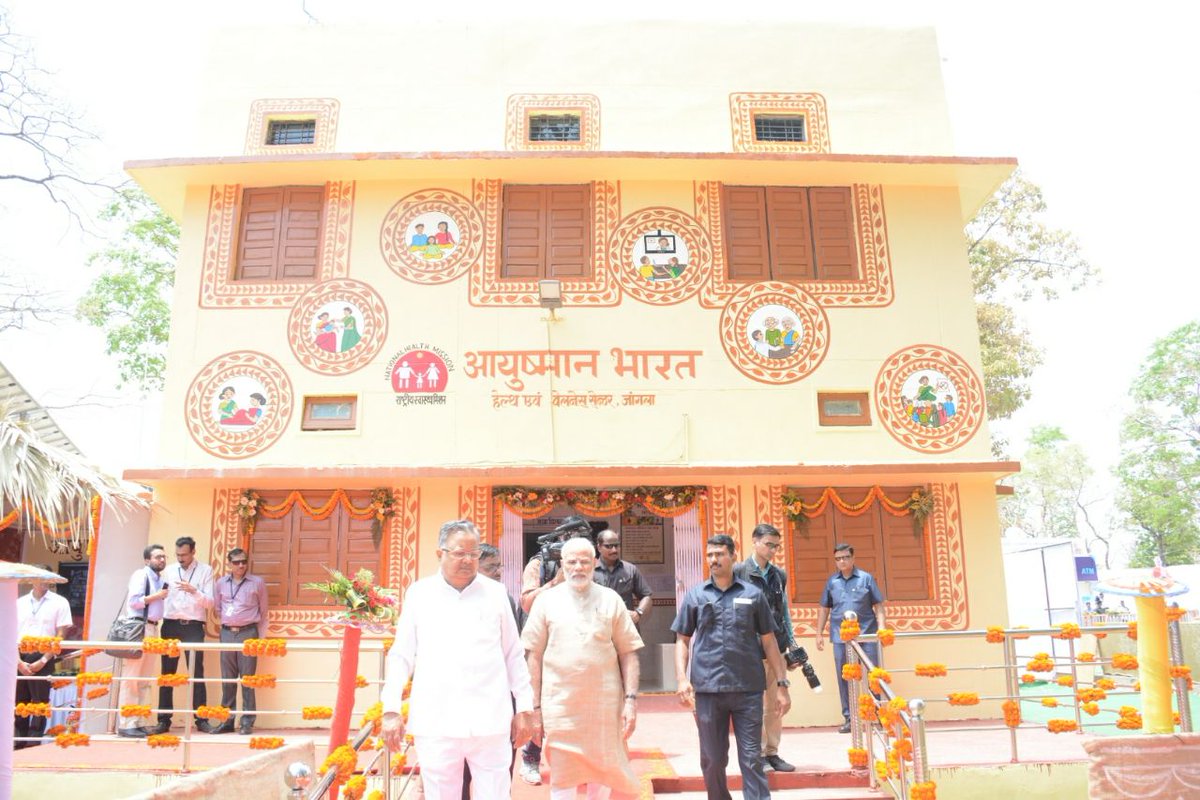 Dr Raman Singh✔@drramansingh
By launching India's first Health and Wellness Center under Ayushman Bharat at Jangla in aspirational @DistrictBijapur , PM @narendramodi ji has brought to life, world's largest health care initiative which will ensure quality health care to hundreds of millions. #PMinBastar
6:27 PM - Apr 14, 2018286129 people are talking about this
Twitter Ads info and privacy
Speaking on the occasion, PM Modi said, "Today, the forum is being heralded the first phase of the historic and biggest Ayushaman India scheme to end social imbalance in the country. By treading on old paths, you can never reach new destinations. We are working with a new approach for 115 districts of the country, including Bijapur. If Bijapur can see development in 100 days then why can't the other districts witness the same? I came here to assure you that with all the development projects now Bijapur district will no longer be known as a backward district."
He added that it was a great privilege for him to be in Chhattisgarh on the occasion of Babasaheb Bhimrao Ambedkar's birth anniversary.
Noting that the focus has for long been on insurance, the government believes the Ayushman Bharat scheme will help people look at comprehensive, affordable, preventive and primary care.
ALSO READ: Chhattisgarh's Rural Digipreneur Summit just made entrepreneurship simpler with these initiatives
Ayushman Bharat has twin missions to create a network of health and wellness centres to deliver comprehensive primary health care close to the community, and to provide insurance cover to 40 percent of India's population, which is deprived of secondary and tertiary care, including instance and hospitalisation costs.
The scheme was launched by PM Modi at Jangla village in Bijapur. He also inaugurated bank branches in seven villages, including Jangla, of Bijapur district.
New railway line and Bastar Net Project
A newly laid railway line between Gudum and Bhanupratappur was also commissioned through video-conferencing, according to an official release.
The line, part of the Dallirajhra-Rowghat Railway project, will help connect the people of north Bastar.
The Prime Minister also inaugurated the first phase of the state government's Bastar Net Project, which aims at expanding the reach of the Internet to the remote villages of the division.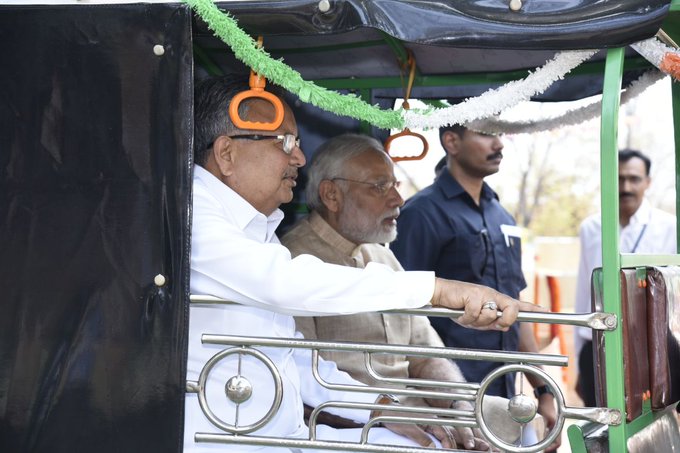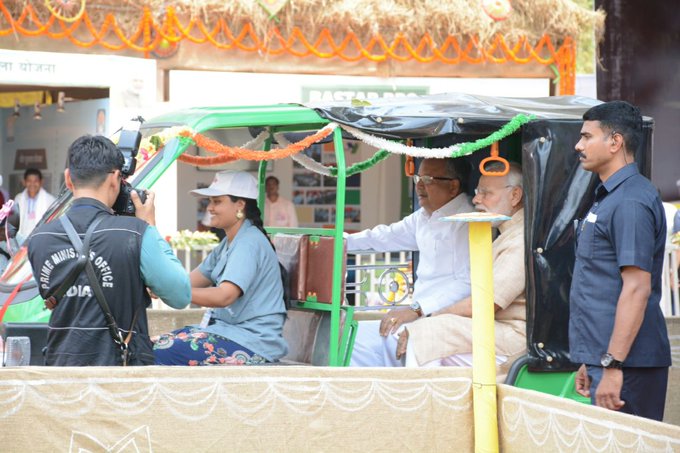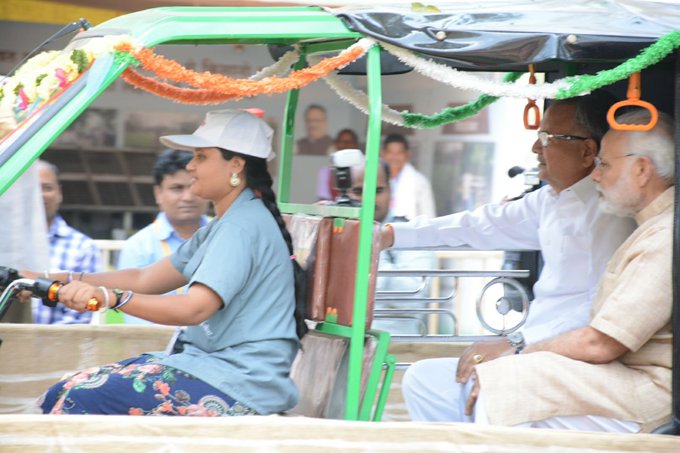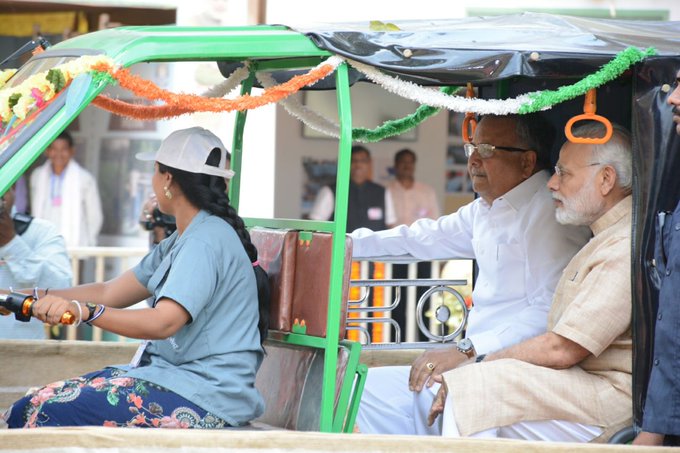 Amitabh Kant✔@amitabhk87
It was a great day for Savita Sahu of Bijapur who had the PM & CM @narendramodi & @drramansingh as her passengers in her E-Rickshaw. What a career start for the young lady!
7:19 PM - Apr 14, 2018 · Raipur, India969269 people are talking about this
Twitter Ads info and privacy
An optical fiber cable network is being laid over an area of 40,000 square kilometres in Bijapur, Narayanpur, Bastar, Kanker, Kondagaon, Sukma, and Dantewada districts of Bastar division as part of the project.
At present, Chhattisgarh boasts of a successful creation of the Village Level Entrepreneurs (VLE) through the Common Service Centres (CSC) in the state. The CSC was founded in 2008 as a government initiative to promote entrepreneurship among the villages and rural areas across the country
Chhattisgarh currently boasts of over 11,583 VLEs who are working at the Gram Panchayat level across the 27 districts of the State. Currently, the VLEs have delivered close to 40.10 lakh transactions, all amounting to Rs 96.03 crore in the current financial year.
Earlier in the day, the Prime Minister was welcomed by Chhattisgarh CM Raman Singh to the state.
Bijapur, Bahraich in Uttar Pradesh, and Mewat in Rajasthan are among the 115 aspirational districts, which have shown achievement in the last three months on three parameters, namely incremental performance, best action plan, and best practices.
The central government has embarked upon a major policy initiative for rapid transformation of districts that are lagging on specific development parameters.
According to a government press release, senior government officials of the rank of additional secretary and joint secretary have been designated as officers-in-charge to coordinate the efforts of the Centre and states in addressing the specific developmental needs of these districts.
The PM also launched the Van Dhan Yojana which aims at empowering tribal communities. He laid the foundation stone for the construction of 1,988 km of Pradhan Mantri Gram Sadak Yojana (PMGSY) roads in Left Wing Extremism (LWE) areas; other road connectivity projects in LWE areas, water supply scheme of Bijapur and two bridges.